Written by
Billy Mitchell
Employees at top tech companies producing artificial intelligence and facial recognition are largely fearful of the misuse of the technologies — but that doesn't keep them, in many cases, from being willing to produce it for law enforcement or military use, according to a new survey.
Slightly more than half of the Microsoft, Google and Amazon employees questioned in a survey by anonymous social chat app Blind said they "are willing to create AI software used by law enforcement." Salesforce and Cisco employees weren't far behind with 48 percent and 47 percent, respectively, saying they would make AI for law enforcement use.
Yet, when also asked in the two-question survey if they are concerned about the potential misuse of AI, roughly 7 out of 10 employees of the same companies said they're worried by the prospect of it.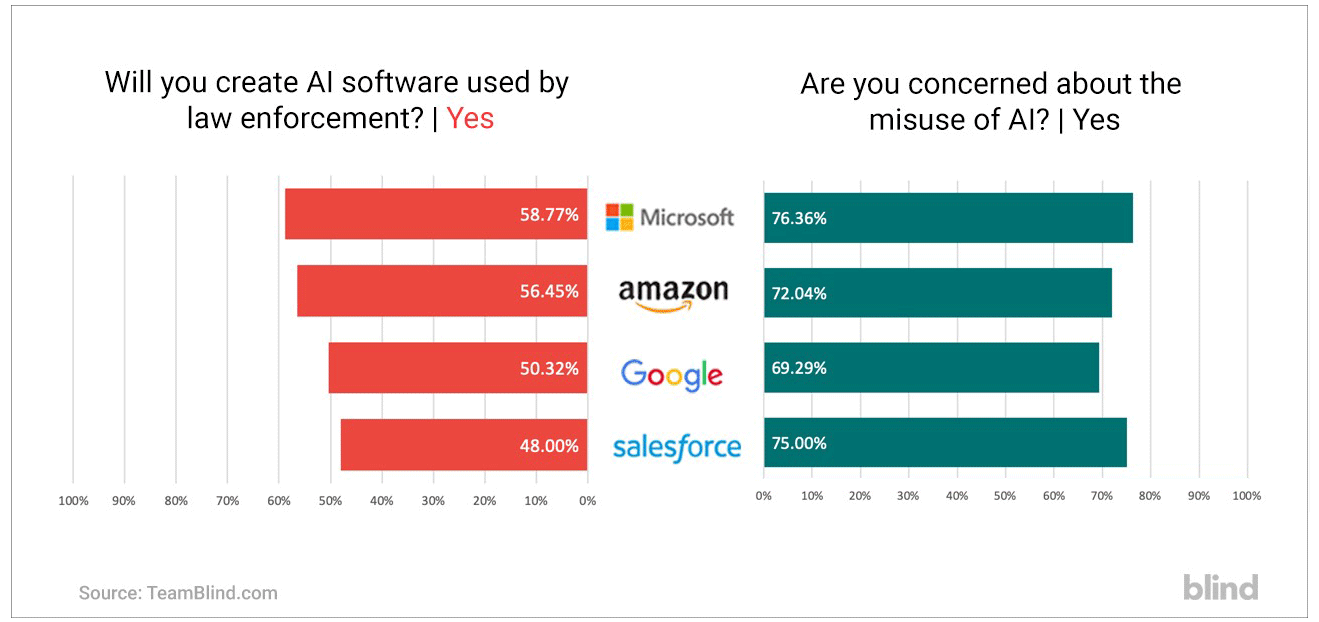 About 43 percent of IBM employees would make AI for law enforcement, the survey revealed, while about 37 percent of Apple employees polled would do the same.
The survey comes as employees in the industry have made news for protesting AI or facial recognition work with U.S. law enforcement and military services. Most notably, Google backed out of future work with the Department of Defense's AI program Project Maven after backlash from employees over the use of the company's work for applications connected to battlefield lethality. Similarly, reports have been published of Microsoft, Amazon and Salesforce employees refusing to support their companies' ongoing work with law enforcement agencies, particularly those working along the U.S.'s southern border, like Customs and Border Protection and Immigration and Customs Enforcement.
Blind pitches itself as a place for professionals to anonymously "interact, and share/ask questions freely." It requires users to be verified through their work email. The company claims its users consist of more than 56,000 Microsoft employees, 41,000 Amazon employees and 18,000 Google employees.
"With such a large user base of tech professionals, it makes it easy to quickly poll these employees about important and popular topics, such as satisfaction in the workplace," the company says.
This survey, conducted July 10-17, elicited 3,826 responses, Blind says.